Lilac Tree Suites and Spa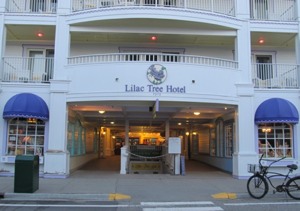 Winter Lodging Dates: Open December 6 & 7, and December 29 – January 1, 2020
With thirty-nine uniquely appointed suites, the Lilac Tree Suites and Spa reflects the French, English and American heritage of Mackinac Island. Each spacious suite has a living room and a separate sleeping room. No two suites are alike.
The unique decor is accented with variations of wood, wicker and iron. Traditional antiques and modern fixtures combine to create an atmosphere that is unavailable anywhere else on the island.
Lilac Tree Suites and Spa
P.O. Box 540
Mackinac Island, MI 49757
866-847-6575
<>
Visit Lilac Tree Suites and Spa Website >>>>
<>
Lilac Tree Suites and Spa Photo Gallery (Click on photos for captions & slideshow view)

[flickr]set:72157644910686790(thumbs)[/flickr]
<>
Lilac Tree Suites and Spa On Facebook
Below are the latest postings from the Lilac Tree Suites and Spa Page On Facebook.
<>
This message is only visible to site admins
Backup cache in use.
PPCA Error: Due to Facebook API changes it is no longer possible to display a feed from a Facebook Page you are not an admin of. The Facebook feed below is not using a valid Access Token for this Facebook page and so has stopped updating.
<>
Visit Lilac Tree Suites and Spa On Facebook >>>
<>
<>
Visit Lilac Tree Suites and Spa Website >>>>
<>