Seabiscuit Cafe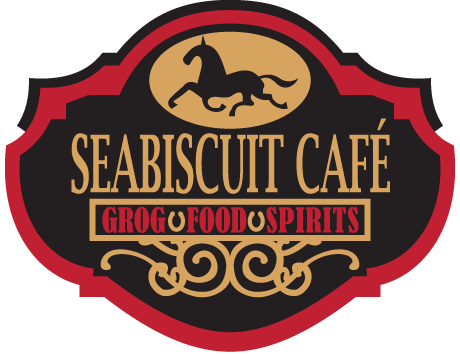 This fabulous Mackinac Island eatery features an appropriate horse theme from the 1938 true life story of the famous horse, Seabiscuit. After purchasing this former 1800s bank building, the new owners, sisters and lifelong island residents Debra and Sandra Orr, completely renovated the structure, including removing two inches of mortar from the walls revealing beautiful original brick surfaces. A great deal of care was taken to restore the original hardwood floors and new furnishings have transformed this building into a cozy comfortable restaurant.
Debra says the restaurant is "in honor of all types of horses." She describes it as a "cozy café," a place she hopes patrons feel is as comfortable as a second home. The recent movie version of the famous horse's story runs continuously on one of the restaurant's four TVs.
An excellent casual menu appropriately fits this charming place. Appetizers out of the gate include Roasted Indian Corn and Shrimp Chowder, Painted Pony Macaroni and War Admiral Hot Wings. Join the winner's circle with sandwiches such as Honey Nut Chicken Salad Sandwich, Smoked Whitefish Salad Wrap, Cuban Pressed Sandwich, or a World Famous Derby Burger. To spin things little, try a Souvlaki Open Faced Gyro, a Caesar Twook Salad or a Michigan Chop Cherry Cobb. Visit the menu page for a complete list of Seabiscuit's delicious offerings.
A fine wine selection is available along with a full bar so stop in for an afternoon cocktail or stay for the evening sipping your favorite martini. The menu page also includes the wine list and specialty drinks.
Seabiscuit Cafe
P.O. Box 1997
7337 Main St
Mackinac Island, MI 49757
906-847-3611
<>
Visit Seabiscuit Cafe Website >>>>
<>
Seabiscuit Cafe On Facebook
Below are the latest postings from the Seabiscuit Cafe Page On Facebook.
<>
<>
Visit Seabiscuit Cafe On Facebook >>>
<>
Seabiscuit Cafe – Photos From Instagram
Here are the latest photos of Seabiscuit Cafe via instagram. If you have an instagram photo to share of your visit to Seabiscuit Cafe, choose "Seabiscuit Cafe" as your location and your photos will appear in the photo stream below.

<>
<>
Visit Seabiscuit Cafe Website >>>>
<>